How to Reduce Snacking While Watching TV
Wednesday, February 3rd, 2016 at 6:08 pm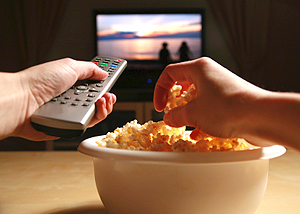 A new study from Cornell University found that students who watched the 2005 action movie "The Island" on television ate 65 percent more calories (354) than those who watched Charlie Rose (
For those who can't break a television and snack habit, the trick might be to watch Charlie Rose's interview program rather than action movies.
A new study from Cornell University found that students who watched the 2005 action movie "The Island" on television ate 65 percent more calories (354) than those who watched Charlie Rose (215 calories).
Tagged with: Eating the Right Quantity
Filed under: Helpful Ideas to Keep yoou on Track • Low Carb
Like this post? Subscribe to my RSS feed and get loads more!